No one planned for this kind of growth at Hilltop Children's House.
When Noëlle and I founded Hilltop Children's House in 2017 and then opened the doors in October 2018, the plan was merely to offer a Montessori Primary program.
Our Primary Montessori program — called a "children's house" in Montessori parlance — started modestly with two students. We had seven students by the end of the first year, and we have enjoyed growth in the children's house every year since.
This sixth year of Primary opened today with 23 students. With our renovated classroom (more on that soon) we will be able to reach our maximum capacity of students in Primary within the next couple of years.
But if we had remained only a Primary, only a children's house, our name, "Hilltop Children's House," would have remained appropriate.
Well, we did not remain just a children's house.
During the 2021-22 school year pieces began falling into place for us to launch a Montessori Elementary program. We were not planning on opening an Elementary. But then, if it were all about our plans and our efforts, this school wouldn't be open.
We had placed this school under the patronage of St. Teresa of Calcutta from day one. Her life was one instance after another of setting aside her plans and doing the thing that God placed in front of her. Well, we saw that same movement in what came together during that 2021-22 school year. We didn't plan it, but too many things fell into place to be pure coincidence. So we poured ourselves into making an Elementary happen.
With a significant amount of help and sweat from others, we got the new building renovated, and we opened the Elementary program in fall 2022. This past May we celebrated as four students from our Primary program moved up to Elementary.
This, however, meant that the name "Hilltop Children's House" no longer applied. Over the summer of 2023 our Board discussed this matter and decided upon the name "Hilltop Montessori School."
This, of course, means a new website domain. We have secured this and will switch everything over soon.
It also means a new logo was needed.
Our new logo was designed by Matt Coakley of Blue Mantle Media. Matt and his wife, Holly, have had children in our school since we opened our doors in 2018. We are deeply grateful for their support, and for this crisp, clean new logo!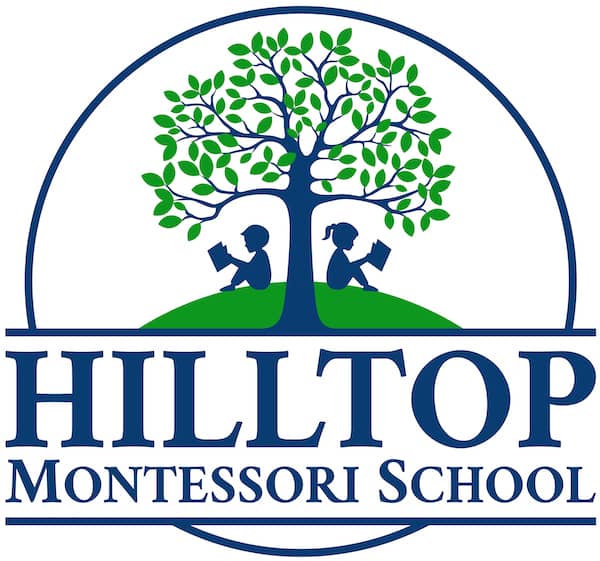 We chose to retain "Hilltop" as it keeps the connection with our founding, which in turn was selected to emphasize our community. We are in the Labelle neighborhood, one of the hilltop neighborhoods of Steubenville, and we have always intended to serve the hilltop communities of Steubenville first.
Including "Montessori" emphasizes that we offer Montessori programs, pure and simple. We believe Montessori is the most complete, effective, and human method of education. We do not, nor will we ever, offer a blended, hybrid, classical, or any other sort of education. We insist that our guides be fully trained by an accredited AMI training center — guides trained at the level they are teaching are absolutely indispensable for a true Montessori experience. Noëlle holds a Primary diploma from the Southwest Institute for Montessori Studies (SIMS). I am currently in the diploma training program for Elementary through the same Institute. Our assistants also have Montessori training — Lucy, our Primary assistant, holds a Primary diploma, while Rebekah, our assistant in Elementary, holds certificates at both the toddler and adolescent levels. Rebekah also grew up in Montessori schooling, and her mother is a fully trained Elementary guide who has been a tremendous help to us. We take Montessori seriously and hope our parents do as well.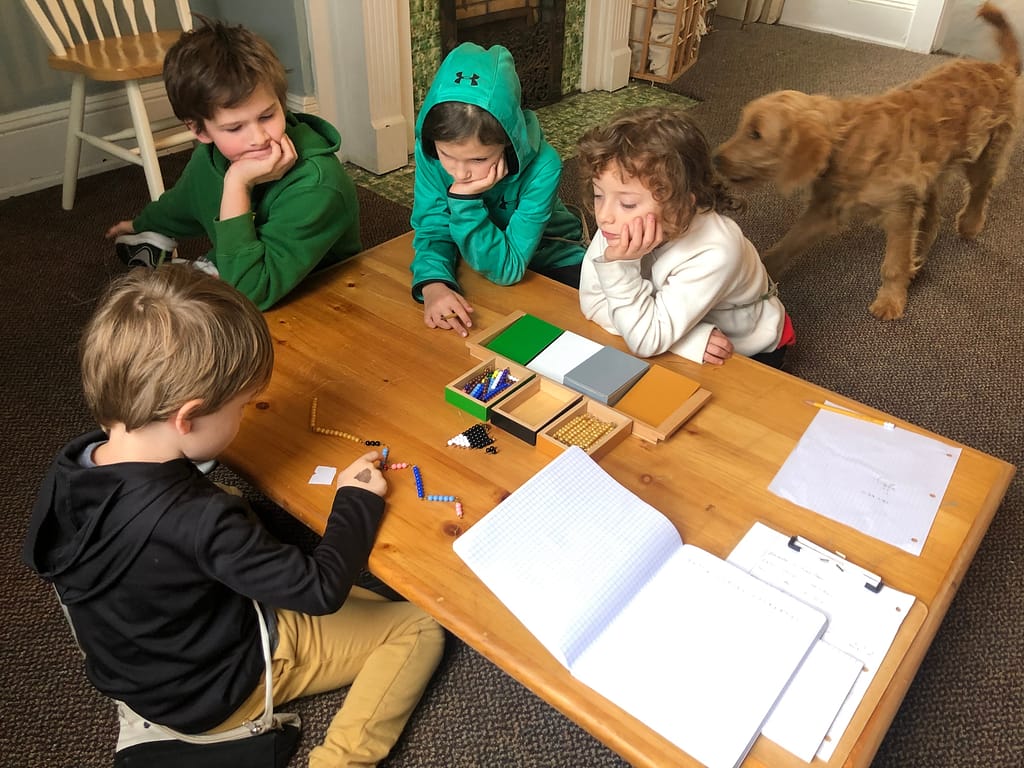 Naturally, "School" is included because that is what we are: a school. We are not a daycare, an after-school program, or anything else. We are a school, and we educate children for life.
We are proud of how much growth we have enjoyed in these six years. We are humbled by the support we have received from our community. We look forward to contributing to society through the children whom we help to become effective, knowledgeable, compassionate, capable adults who take initiative to make the world a better place.
As we say of ourselves, we are "A place where children can flourish." As Hilltop Montessori School we look forward to many years of excellent Montessori for the families of Steubenville and the surrounding area.
____
Hilltop Montessori School offers excellent Montessori education at a price that our families can afford. We do everything we can to make sure finances are not a barrier to enrollment. A significant number of our students receive reduced tuition, with some paying nearly nothing. Your support for this important mission is deeply appreciated. Please give today.
Hilltop Children's House, Inc., the parent non-profit corporation of Hilltop Montessori School is a 501c3 non-profit corporation. All donations are tax-deductible.