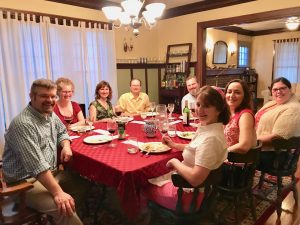 Join Noëlle and Tom Crowe and Rob Corzine for dinner to learn more about the Hilltop Children's House!
There is a lot to do to get the Hilltop Children's House fully up and running and then to keep it going. Through the help and partnership of many people we will be able to provide this "foundation for life" to many, many children on the hilltops and thereby help improve the future of our community.
Three to Five Guests Welcome!
We're looking for groups of no fewer than three and no more than five guests to join us around our dining room table.
Every Tuesday and Wednesday
We'd like to offer plenty of flexibility so we are making most every Tuesday and Wednesday available. If you'd like to know more and to see how you can help, register for one or another Dinner for Six Friends!